With NITHYA Smooth, the skin is relieved, and naturally and long-lastingly tightened. The unique formula with potent acetyl hexapeptide-8 helps reduce wrinkles and expression lines, and relieve skin tension. In addition, NITHYA Smooth smoothens fine lines on the face and body by stimulating the skin's collagen production. It also optimises the skin's moisture levels, giving it a plumper, flawless appearance. In the long term, NITHYA Smooth also prevents the formation of annoying wrinkles and unsightly lines by means of the effective active ingredient acetylhexapeptide-8, as a result of which the skin is successfully relaxed and smoothed.
Nithya Smooth
A unique formula with a non-toxic alternative, Argireline (Hexapeptide-8), that has been found to be safer than BoNT and as effective in reducing wrinkles.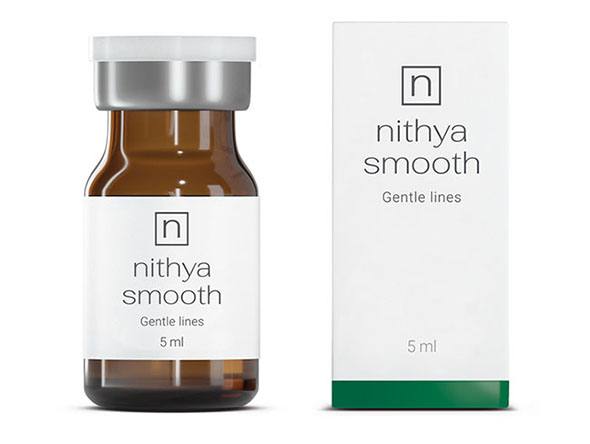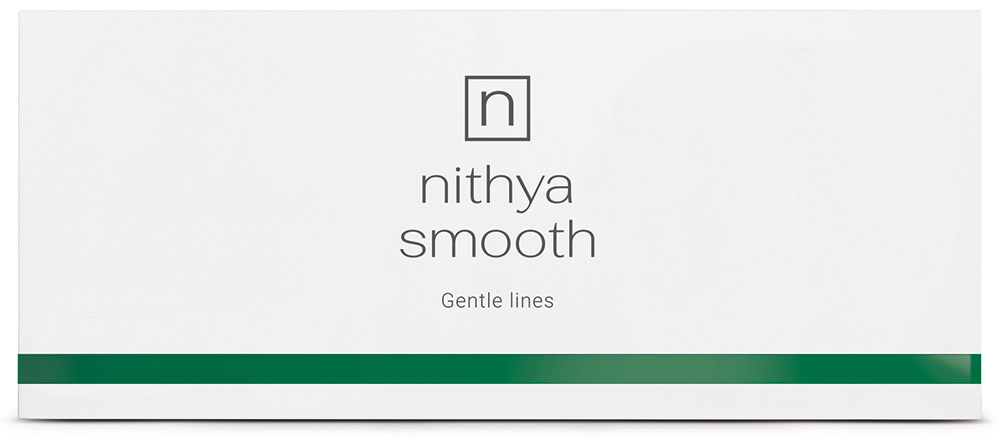 Visibly reduce expression lines and wrinkles
Provide a non-toxic, safe alternative to BoNT
Use in combination to reduce BoNT toxicity in later-stage treatments
Direction for use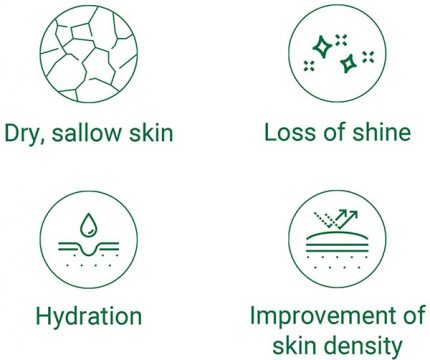 1 vial per session, every 7-14 days of treatment, for 4-6 sessions
How it works
Argireline competes with the protein, SNAP-25 at the neuromuscular synapse, destabilizing the formation of the SNARE complex formation. This inhibits the release of the neurotransmitter acetylcholine, leading to reduced muscle contractionwhich prevents the formation of lines and wrinkles3,6.
Nithya Smooth's Argireline affects neuromuscular synapses, relieving the tension in the muscle and thus creating a state of dermal relaxation that reduces fine lines for smoother skin.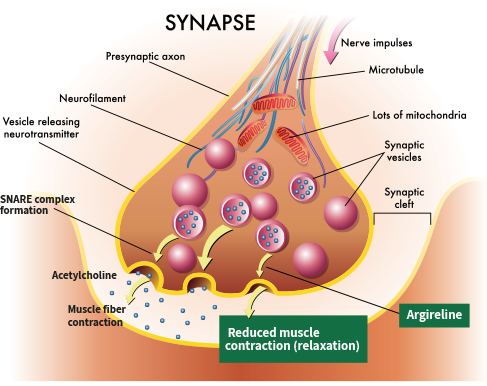 The exceptional Nithya S-Line Products

Nithya S-Line is a range of products from the world-renowned and well-established Italian company Euroresearch. With over 40 years of experience in the field of pharmaceuticals, Euroresearch offers licensed and innovative products that have become indispensable in medical cosmetics. The manufacturer pays special attention to the safety and quality of its products, which are manufactured in a sterile framework, clinically tested, and contain unique active ingredients combined into effective formulas. The Nithya S-Line has been developed according to these standards and offers three products that slow down the ageing process of the skin and at the same time make it appear harmless. These do not fall under the category of fillers or bio-revitalisers, but are so-called soft skin care products that can be administered in different ways. Versatile and effective, Nithya S-Line products can be applied to different areas of the face and body to ensure long-lasting and satisfying results. The Nithya S-Line products are also customisable and combinable, so that every customer can get the best help for their individual problem. The Nithya S-Line is largely made of vegan ingredients and always contains different compositions of various, innovative and qualitative ingredients. Furthermore, the Nithya S-Line products do not cause any serious or adverse reactions or side effects when used correctly. Nithya S-Line has been developed for all people equally, regardless of age or gender.
Treatment areas:

Ideally suited for tightening and simultaneously relieving the skin, as well as moisturising treatments of the following areas:

Forehead
Frown line
Temple area
Eye area
Bunny lines
Tear sacs
Nasolabial fold
Mental wrinkle
Cheeks
Chin
Neck
Décolleté
Hands

Content:

5 ampoules of 5ml each contain the following ingredient, among others:

Argireline (Acetylhexapeptide-8).



 

 

 

 

 

Application rhythm:

For best results, it is recommended to apply this product in 4 to 6 sessions. Ideally, these should be 7 or 14 days apart. After the treatment, it is advisable to treat the skin with thermal water to calm it down. You should stay away from heat sources such as the sauna or hot showers, as well as direct, unprotected sunlight throughout the treatment.
The treatment may only be given with an original doctor's prescription. This regulation does not apply to anyone involved in the healing trade or the health service.
The manufacturer and we, as the seller, point out that an injection of products with and without lidocaine should only be carried out by trained and medically qualified staff.
| | |
| --- | --- |
| Area filter: | Cheek, Chin, Décolleté, Eye area, Forehead, Neck |
| Wrinkle type: | Bunny lines, Forehead wrinkles, Glabella folds, Mentolabial folds, Nasolabial folds |